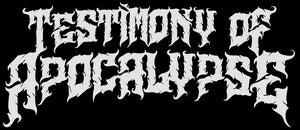 TESTIMONY OF APOCALYPSE announce new album and L.E. Vinyl
ROXX RECRODS is excited to announce that we have officially signed Christian thrash legends TESTIMONY OF APOCALYPSE (Formerly known as Sacrament) to the label to release the bands sophomore release in late 2023 early 2024! We are stoked about this one! 
But up first the album that started it all for these boys now known as TOA 'None Escape The Judgement' is getting the Roxx Records vinyl treatment as a part of the exclusive 'Roxx 100 Series' You wont want to miss out on this one! Full release details and pre orders launch in early February! Stay Tuned! And Welcome Testimony Of Apocalypse to Roxx Records!!!
---