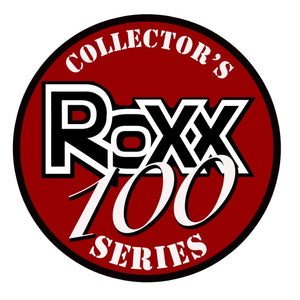 Roxx 100 Collector's Series
Well we all know the vinyl craze is coming on strong again. Unfortunately even though that is true there will always be those albums that either remain strong underground classics, or no one is willing to take a chance on a vinyl release.
Well here at Roxx Records that is what we thrive for, and we are here and excited to bring you a brand spanking new vinyl series. This will be the most limited of limited edition pressings. This series will only print 100 piece pressings, making these even more scarce then others.
These are those releases that we personally want to see realized and immortalized on a vinyl pressing. These are important releases that we should never forget, and releases that are well worthy to get the full vinyl package treatment. Each release will be on 180 gram black vinyl only and again limited to 100 pieces being pressed.
These will be exclusive Roxx Records and No Life Til Metal Records releases and they will be sold and distributed exclusively through Roxx Records and our official distribution outlets.
This Sunday morning we will announce the first two releases, then Monday morning at 8am PST we launch the first two releases for sale. We already have a great line up of releases scheduled to kick this series off. Don't snooze or you know what happens, right?
Get ready as we create a vinyl frenzy as we launch 'The Roxx 100 Collector's Series'.
---