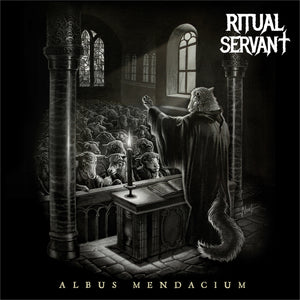 Ritual Servant are prepared to Expose the Lie! Are you ready?
FOR IMMEDIATE RELEASE
RE: Ritual Servant
DATE: April 11, 2023

Ritual Servant are back and Roxx Records is ready to take it up a notch and get this band heard!
Because everyone needs to hear the message and music of Ritual Servant…

EXPOSING THE LIE

Since the bands inception, Ritual Servant had one focused mission and that is to boldly give all the glory to God. This second release is no different in purpose. The mission has not changed. They have returned for more truth and this time they are here to expose the "White Lie." And behold Christ said…

"Watch out for false prophets, for they come to you in sheep's clothing, but inside are ravenous wolves. By their fruit you will recognize them."

Get ready for some serious conviction and hard-hitting lyrics straight from the Scripture. This one is guaranteed to rattle your heart with some Holy Spirit heaviness! And as always 'All glory to God!' Ritual Servant's sophomore album is about to take flight this May so get ready as we prepare 'Albus Mendacium'

The new album will be released May 12th with pre orders launching this Friday April 14th. The album will be available for streaming and digital as well as a limited-edition CD version in jewel case format with a full 12 page booklet.
But that's not all, we will also be launching the third of four of the bands limited edition 7" singles with the third installment 'Opinione' ready to make its way to you. This one is even a little extra special with an ultra rare version for those that pre order, if you act fast. The third installment will be limited to 250 copies only. 200 will be on a gloss black vinyl and a very, very limited amount of 50 on white vinyl.

Be prepared this Friday for the launch of Ritual Servant 'Albus Mendacium'
#roxxrecords
RoxxRecords.com
---