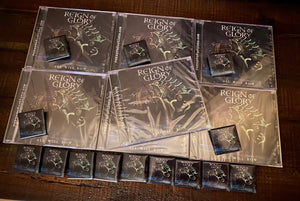 REIGN OF GLORY release third single "When Love Came To Die"
This Friday marks the worldwide release of the debut album from Reign of Glory on all your favorite platforms for digital and streaming. Also physical media in the form of CD and a very limited vinyl pressing will be available at your favorite outlets like Amazon and eBay. Pre Orders are all shipped and buttons long gone! Show us yours when it arrives and let us know what you think! Be sure to pick your copy up this Friday, however you listen to your music and we promise you will not be disappointed! AND from now until this Friday you can get it exclusively at Roxx Records through its release day this Friday at the special pre order price!

Today we bring you the WORLD PREMIERE third single from 'All Will Bow'  entitled "When Love Came To Die" as we showcase the softer side of Reign of Glory. Check it out and share it wherever you can to help spread the word, we appreciate it!
WORLD PREMIERE LYRIC VIDEO:  https://youtu.be/_xIS9Lmjdwo
---