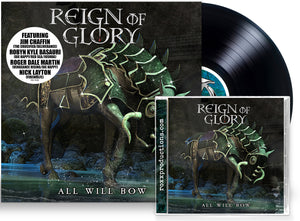 REIGN OF GLORY release new single and full album details
FOR IMMEDIATE RELEASE
RE: REIGN OF GLORY "All Will Bow"
July 13, 2022
The time has come to unleash REIGN OF GLORY upon the world.
REIGN OF GLORY is the brand new metal band featuring the return of Robyn Kyle Basauri (Red Sea, Die Happy, Joshua) on vocals after a long hiatus from his musical career. In addition we see the return of Roger Dale Martin (Vengeance Rising, Once Dead, Die Happy, Triple Ace Band) the monster on the bass, also the amazing Nick Layton(FireWolfe, Q5) crushing it on guitar and the one and only Jim Chaffin (The Crucified, Deliverance, The Blamed) pounding away on those drums.
The bands debut album "All Will Bow" features stunning new artwork with a beautiful cover illustration by David Edgar, and an elaborate cover design and layout by Scott Waters. The debut single "Welcome to Reality" was released in June to rave reviews, and with this full release announcement today we are also excited to launch the bands brand new second single entitled "Forever and Ever".
"Forever And Ever" Lyric Video:  https://youtu.be/uWJONULO-tc
"Welcome To Reality" Lyric Video: https://youtu.be/ghz4IRcpCX0
Pre orders are live NOW in conjunction with a release date planned for August 12th on all streaming and digital sites, and also on CD. October 7th will see a very limited edition vinyl pressing released limited to only 200 copies on black vinyl. See the pre order items listed in the store for pre order incentives for the first 50 orders of each item.
For pre-orders visit us now at www.RoxxRecords.com and get ready to rock as we prepare to bring you the debut album from REIGN OF GLORY
Please follow REIGN OF GLORY on social media https://www.facebook.com/Reign-Of-Glory-100801572602941
---