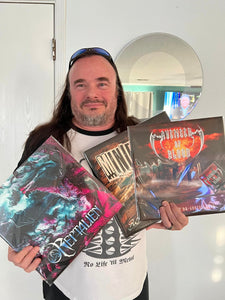 NLTM Records release weekend celebration! Primal, Absolon, Reptalien and Avenger of Blood!!!
It's NoLifeTilMetal Records Release Day
weekend celebration!
March 24th we launched all brand new releases from Primal with their sophomore album 'Humachine' and Reptalien with their debut self-titled release. As well as new releases from Absolon with their sophomore release 'A Portrait of Madness' and for you thrash-aholics the brand new Avenger of Blood with 'Completely Reannihilated'
To
celebrate we extended the preorder prices through Sunday and will be giving away stickers to all this weekends purchases! After that they are all gone! As an added bonus we have the brand new LP and CD from Minier that was just released on sale this weekend also! Get it while you can! (Click on photos below for sale prices)
Check out all the people already enjoying the new releases!
* Pictured Scott Waters (NLTM Records)
* Also now available at Amazon, eBay and various other distributors where you buy music. Heading to Japan and Europe shortly.
---