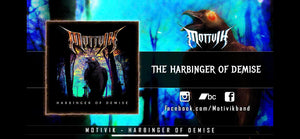 MOTIVIK release new single and announce VERY Limited vinyl pressing
MOTVIK released their debut album via Roxx Records in 2021 to amazing critical and fan acclaim. The band has not been silent at all, Motivik front man Ryan Roebuck has been hard it work with his other bands, Ritual Servant and Vultures Gathering. BUT Motivik fans can now rejoice as we have a brand new single debuting for all to hear entitled "The Harbinger of Demise" now available digitally and also via this world premiere video. 
If that's not enough MOTIVIK for you, then you vinyl collectors will want to take note, the band will be releasing an exclusive and very very limited vinyl pressing of only 100 copies worldwide of their debut album "Death of the Gunman". To make this special pressing even a little more special the brand new track "The Harbinger of Demise" will be added as an exclusive bonus track to this very special and limited vinyl release. 
You wont want to miss this, Roxx Records will be releasing this Limited Edition vinyl version on January 6th, 2023 it will be our first release for the year. Pre orders will go live in late November/Early December so stay tuned! 
In the meantime, pick up and enjoy the brand new digital single "The Harbinger of Demise" 
https://motivik.bandcamp.com/track/harbinger-of-demise
---