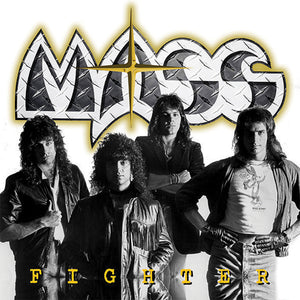 Mass to release previously unreleased album Fighter on LP + CD
Mass are one of those classic band's that have been around forever but had been plagued with bad luck. In 1982 the band signed their first major record deal with A&M Records and recorded their first full length album with legendary producer Tom Allom. As a reference point, around this same time Tom had produced "Screaming for Vengeance" for Judas Priest and only a couple years earlier, "On Through the Night" for Def Leppard. Unfortunately the album was never officially released due to bad relations between A&M and the band's management.

Mass spent a good portion of the next couple years fighting their management in court. In the meantime the album was shelved and the band decided to record and release an independent EP. That EP sold over 10,000 copies in the Boston area alone and again had record companies interested in the band. In 1985 they signed with RCA and finally released their full length debut aptly titled "New Birth". Since that time the original Tom Allom produced debut was sitting on a shelf unreleased. Finally in 2019 this album is being released by NoLifeTilMetal Records how it was intended to be released, ON VINYL!

What we have with "Fighter" is a majestic, classic, 1980's heavy metal platter. "Fighter" is a heavy album, especially considering it was recorded in the early 1980's. The band offer a lot of variety with heavier tracks, some lighter moments and plenty of killer hooks. A few of the tracks from "Fighter" were later re-recorded for "New Birth" including "Watch Her Walk", "Too Far Gone", "Voyager" and "Do You Love Me". However, the raw 80's production along with some excellent modern mastering techniques gives these recordings the edge over the "New Birth" versions. As well, "Bad Man's Reputation" was released a few years ago as a bonus track on the "Best Ones" CD. The rest of the songs are exclusive to the vinyl version. The heavier tracks such as "Watch Her Walk", "Too Far Gone", "Slip of the Tongue" and "Bad Man's Reputation" feature some searing guitar work. One of the biggest highlights is the title track, a doomy heavy metal song with a darker feel than some of the more upbeat songs. "Fighter" was recorded on analog equipment and belongs on vinyl.

As well, NoLifeTilMetal Records is releasing a very special CD version of "Fighter" with a slew of never before released bonus tracks. Taken from the original master tapes, we have included seven rough mix tracks from the Criteria Studios sessions including the previously unreleased song, "Change Your Way". If that isn't enough, there is also a must-be-heard live version of "Holy One" recorded in 2010 where you can hear dialogue from lead singer Louis St August addressing some of the hardship and issues that arose from this infamous recording.

The artwork has been completely re-worked by Scott Waters of NoLifeTilMetal, along with the help of Mass vocalist Louis St August. Both the LP and CD are printed on a special uncoated paper stock and features photos of the original band members, as would have been seen if the album had been released in 1982. The inserts include liner notes by Louis St August as well as lyrics and period-accurate photos.

What could have been? "Fighter" is a great album. It's really a shame this album wasn't released in '82 when it was recorded as it probably would have made Mass a household name. As it stands, it's still a great album decades later. Classic metal fans now have a "NEW" album to add to their collections and Mass fanatics can rejoice that "Fighter" has finally been officially released on vinyl.
The vinyl version of this album will be strictly limited to a one time 500 piece pressing with 150 on white vinyl and 350 on a traditional black vinyl. The CD will be packaged in a jewel case and also limited to 500 pieces complete with 12 page booklet.

For now check out the just released video for the title track "Fighter"…

https://www.youtube.com/watch?v=iH1EIYcxVwI

…and then head over to www.nolifetilmetalrecords.com and get in on the pre orders that are live now and you can also pick up one of the limited edition special bundles that feature some exclusive items.


---