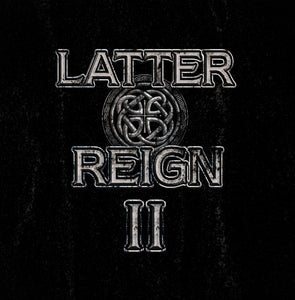 LATTER REIGN to release sophomore album in July!
FOR IMMEDIATE RELEASE
RE: LATTER REIGN – "II"
Date: June 27, 2022
At the beginning of this year we brought you a very special, long lost release that made its debut to great critical acclaim, and all the reviews were stellar! That artist was Latter Reign and we were very excited to be able to bring you the bands debut album "Live For The Day" remastered and restored with all new artwork and design. Well that release has done so well, it led us to be able to work with Latter Reign once again!  
Now we bring you the bands second full length album, aptly titled "II". "II" is a collection of songs that the band originally wrote and performed back in the day. These songs were just taking shape, and these brand-new songs were played live, but never officially released...until now. Latter Reign shared stages with many bands including Fear Not, Guardian, Tourniquet, Sin Dizzy, Barren Cross, Ransom and Broken Silence playing tracks from their debut release and these tracks you will hear right here from "II".
Many of the tracks were never finished completely alas they rekindled their creative juices to finish recording and releasing them. With the band back together, they managed to touch up, re-record and add to these tracks to get you what you will hear today on what is essentially a brand new album. If you want the whole story, you'll have to order the new CD, as the whole story is detailed and all in there with this CD package!
For now lets take a look at the first single, which is the self-titled track "Latter Reign" from the upcoming "Latter Reign II" album, and for this special video the band unearthed some previously unseen footage.
Video: https://youtu.be/6Z4qqjJDX3o
This beautiful limited edition CD package was remastered by Rob Colwell (Bombworks Sound) the album cover, layout and design were done by Luke Easter (Tourniquet). This new album is officially arriving with a street date of July 29th, 2022
Visit us at www.RoxxRecords.com for full info and pre order information that is live now at a special price until release date!
---