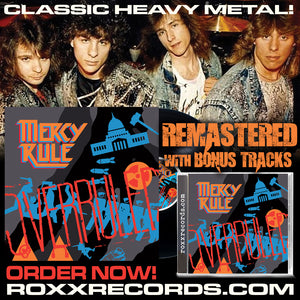 ITS RELEASE DAY + 2 WORLD PREMIERE VIDEOS
IT'S RELEASE DAY!
+ 2 WORLD PREMIERE VIDEOS!

MERCY RULE, PRETERIST & DYNASTY of METAL
It's officially release day for the brand new remastered and reissued title from classic Christian rockers MERCY RULE with their album 'Overruled'

To celebrate we are going to keep the special pre order pricing going all through Memorial Day weekend!

AND we have two videos to share with you today from MERCY RULE! Very excited that we were able to obtain these videos from the band that were never officially released from back in the day! Wit the help of Dave Kruse of Kruse FX we tried to clean them up and also added the brand new remastered audio to the tracks So sit back and enjoy these World Premiere's from MERCY RULE

CITIES ARE BURNIN': https://www.youtube.com/watch?v=M_ESPmg5gjg

RUN CECELIA: https://www.youtube.com/watch?v=qsGy2AQE280

And we have even one more surprise for you Mercy Rule fans. The brand new interview exclusive that is now available from our partners at Heaven's Metal Magazine

HM Article: https://heavensmetalmagazine.com/index.php/2023/05/24/mercy-rule-interview/?fbclid=IwAR0Dutx0QFVuYGYu1LkXklJJe5mFvdjUmAyfp4AzXOAMTz6S6GlwivavLFk

So watch the videos, read this brand new article and most importantly pick up 'Overruled' today available at Amazon, eBay and the Roxx site directly. As well the digital remastered release was released today also wherever you buy your digital or streaming music. Get it there and pick it up today.
DYNASTY of METAL 
"Back To The Past"

This classic tribute to all things Christian Metal. If you have not heard this one yet you are missing out on some Killer Power Metal and some amazing renditions of some of your favorite classics from the likes of Stryper, Barren Cross, Sacred Warrior, Bloodgood and a whole lot more! 

Check out this 10 minute promo sampler: https://www.youtube.com/watch?v=4G-ClRpVax8

AND for this Memorial Day this one will also remain at the special pre order price through Memorials Day so pick yours up this weekend. 
PRETERIST 
"Blood Moon Rising"

Last but certainly not least the brand new debut album all the way from Finland with some of the best new Progressive metal we have heard this year! Check out the debut single today and ALSO pick this one up at the pre order sale price through Memorial Day

TITLE TRACK: https://www.youtube.com/watch?v=tQPd4_z32hM
#roxxrecords
RoxxRecords.com
https://mailchi.mp/48727c47a832/its-release-day-2-world-premiere-videos-mercy-rule-preterist-dynasty-of-metal
---