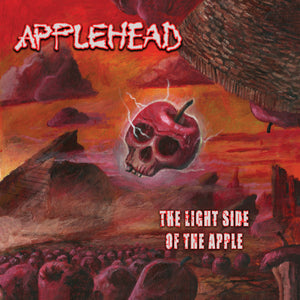 Applehead Releases Highly Anticipated Album, 'The Light Side of the Apple'
FOR IMMEDIATE RELEASE
DATE: MAY 5, 2023
Applehead Releases Highly Anticipated Album, 'The Light Side of the Apple'
With the successful release of the single, Down, Applehead returns after a 30 year hiatus to deliver the new album, 'The Light Side of the Apple' via Roxx Records the indie label that specializes in new rock and metal from favored legacy artists and new artists from across the globe.
Applehead's first release, 'Meaning' was recently reissued as a limited run vinyl/cd on Roxx Records and 'The Light Side of the Apple' is more than just a return to form.
Inspired by personal challenges and unanswered questions, Greg Minier guides the listener through a metal onslaught that flows through musical genres and styles that create emotional connections harkening back to the original days of hard rock.
True to the original Applehead concept, Greg Minier played all the instruments with the exception of the bass lines that were done by Jaymi 'Pinkbassman' Millard (Mark Slaughter Band, Slaughter).
The album will be released on all streaming and digital platforms as well as CD. There will be a limited vinyl run and the preorder options will be available soon!
The apple tree has grown heavier branches and the fruit of those branches will rock you!
On social media: facebook.com/OfficialApplehead
Store: RoxxRecords.com
#roxxrecords                   
---