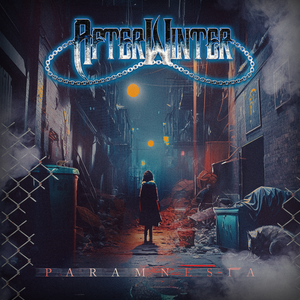 AfterWinter ready to unleash debut full length album 'Paramnesia'
FOR IMMEDIATE RELEASE
Artist: AfterWinter
Title: Paramnesia
Date: April 4, 2023
Roxx Records is excited to be bringing you the debut full length release from AfterWinter.
AfterWinter features the core band that created the music on both of those exceptional BioGenesis albums, 'A Decadence Divine' and 'Black Widow'. The band features James Riggs on Rhythm Guitar, Luke Nealeigh on Lead Guitar, Sam Nealeigh on Keyboards, Dan Nealeigh on Bass and Eli Closson rounding out this musical force on drums. If you followed the band back during this line up, you may recall Majenica Nealeigh pounding on the drums early on. Well this time she steps up to the microphone and heads out to handle co-lead vocals along with Jerry Grazioso on this exceptional brand new album entitled 'Paramnesia'. 'Paramnesia' is more than an album, it is a full on musical extravaganza and rock opera that tells us the story of the fictional brother and sister Riley and Thomas Stone.
The story of Paramnesia focuses on Detective Riley Stone, a Christian woman from the fictional city of Howeldale California. The story opens as Riley begins to have strangely vivid nightmares where she finds herself on the scene of several violent murders. Each morning following these visions, she is called to a real murder scene by Police Sergeant Orion to discover the scenes she dreamt played out exactly as she remembers from her dreams.
Each murder is linked by a number, presented as if it is military time, leading Riley to decide the murders are being committed by a serial killer. With the spiritual guidance of her brother Thomas Stone, Riley determines God is giving her these prophetic visions so that she can stop the killer. Join Riley and Thomas as they grapple with themes of deep introspection, self-doubt, questioning faith, questioning purpose, living with mental illness, and the dangers of becoming a false prophet. AfterWinter is beyond excited to share with you the work of the past 3+ years, culminating in an album that the band feels is the best of all things it has to offer! We know you are going to LOVE 'Paramnesia'
Today we debut the brand new album cover art designed by graphic artist Rafael Tavares Gripp and it is an exceptional masterpiece to go along with an epic story.
Today we are also going to share the world premiere single with you entitled 'Left For Dead'
Get ready as we prepare to bring you this debut beautiful two disc set from AfterWinter which is sure to be an instant classic for Christian Metal fans this year. Preorders and release date coming soon!
#roxxrecords
---